Collaboration Parks
The all-in-one Hybrid Collaboration Suite for more insights, results and engagement
Create and meet in your own organisation metaverse. Combining whiteboarding, workflow management, videoconferencing, engagement components and 3D experiences.
Start now
Digital Obeya
"The 3D environment of CoVince is the missing piece of the puzzle and supports the municipality of Rotterdam in being creative with each other in a playful way. Linking the information from Miro to the CoVince environment creates endless possibilities for establishing relationships in various VR/AR collaborations."
Stefan van Ingen – Enterprise Architect – Gemeente Rotterdam
Together
Video conferencing with new dimensions
Feel the freedom and experience the new social aspects of spatial presence.
Hybrid
Physical room to full immersion
Together with our hardware partners we create fully immersive physical collaboration spaces. Join physical or digital with smartphone, laptop or VR glasses.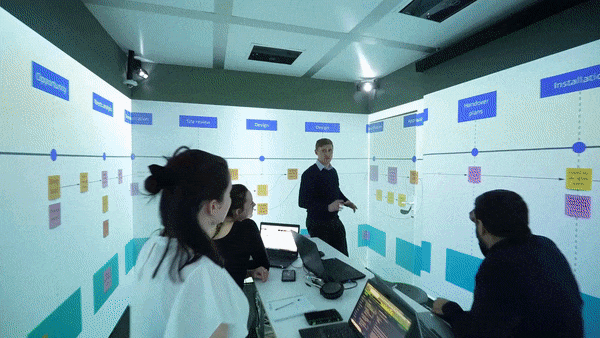 Hybrid starter
From physical rooms to VR
The setup for immersive meetings spaces. Join physical or digital with smartphone, laptop or VR glasses.
Digital Twin
Make your physical space functional in the digital world
By scanning your space it can be enriched with all the collaboration functionalities, to make your meetings… your meetings.
Personal cockpit
Chats, tasks, events and schedule in one
Keep track of all your projects, training and other happenings. Easily plan new gatherings with your lifetime spaces.
Symbiotic projects in one environment
Enhance collaboration, transparency and insights
Bring the social aspect to digital meetings, by having the real life effect of walking or having a conversation at the coffee corner. Aggregate all the data to summarizing graphs and export details for other reporting.
Whiteboarding
Plot your ideas, connect the dots
Create smartnotes with texts, images, audio fragments and even videos! Make connections and divide, structure, organize what suits your needs.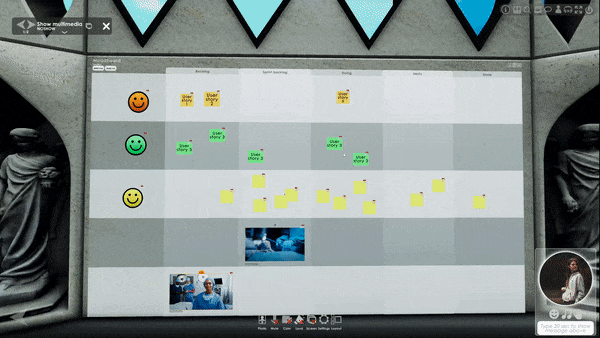 Workflow
Manage your personal, team and organization flow
Assign and plan tasks, oversee all boards and get insights in the interdependencies.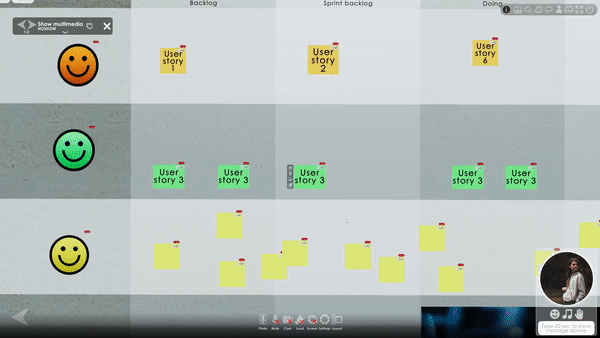 Create your own
Build to your needs
Create your own environments with our Experience Builder, or perform small changes in the quick editor.